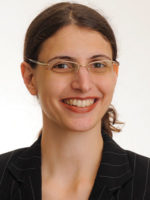 Senior Scholar
Direct Dial: (516) 463-5865
Email: Irina.D.Manta@hofstra.edu
Professor Manta is a Senior Scholar at C-IP2. Her research spans legal issues involving intellectual property, torts, the Internet, privacy, national security, and immigration. She has a particular interest in the intersection between the law and the social sciences, and especially psychology and economics. Professor Manta has published or has forthcoming work in the New York University Law Review, Vanderbilt Law Review, Emory Law Journal, William & Mary Law Review, Iowa Law Review, North Carolina Law Review, Alabama Law Review, Boston College Law Review, Ohio State Law Journal, and Harvard Journal of Law & Technology, among others. She is also a co-author for a textbook on criminal law issues in intellectual property and blogs for The Volokh Conspiracy. In 2014, she received the Lawrence A. Stessin Prize for Outstanding Scholarly Publications, which is awarded to two junior faculty members across all disciplines at Hofstra University. Professor Manta has given well over a hundred talks nationally and internationally, and in 2018 served as a Visiting Scholar at Waseda University in Tokyo, Japan.
Before joining the law school faculty in 2012, Professor Manta was an Assistant Professor of Law at the Case Western Reserve University School of Law. She was a Bigelow Teaching Fellow and Lecturer in Law at the University of Chicago Law School from 2007 to 2009. Professor Manta has also served on the faculties of Fordham Law School, the Benjamin N. Cardozo School of Law, Brooklyn Law School, The George Washington University Law School, and the University of Arkansas at Little Rock William H. Bowen School of Law. She clerked for Judge Morris S. Arnold on the U.S. Court of Appeals for the Eighth Circuit for the 2006-2007 term.
While earning her J.D. at Yale Law School, Professor Manta was the grand prize winner of the Foley & Lardner LLP Intellectual Property Writing Competition. She also served as tributes editor of the Yale Law Journal, articles editor of the Yale Law & Policy Review, and editor of the Yale Journal on Regulation. She graduated magna cum laude from Yale University with a B.A. in psychology. Her writings have appeared in the Washington Post, Scientific American, USA Today, Chicago Tribune, Salon, Newsweek, Yahoo! News, International Business Times, and The Conversation, as well as on SCOTUSBlog.
During her time in the academy, Professor Manta has taught Torts, Property, Intellectual Property Survey, Trademarks, Copyright, International Intellectual Property, The Criminal Law of Intellectual Property and Information, Intellectual Property Colloquium, Law & Social Science, and a variety of other intellectual property courses.