C-IP2 produces research, education, and service at the intersection of IP and innovation policy to better understand and shape the means of innovation as a positive force for good. We do so by promoting a diverse set of perspectives and voices to present a fuller picture than that of the dominant legal academic literature on the role of IP and other legal mechanisms to transform great ideas into useful or aesthetic artifacts and activities.
---
IN THE SPOTLIGHT
---
C-IP2 2023 Annual Fall Conference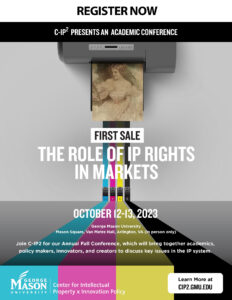 First Sale:
The Role of IP Rights in Markets
Thursday, October 12, &
Friday, October 13, 2023
Hosted in person at Mason Square
(formerly the Arlington Campus)
— Approved for 7 Hours of VA CLE —
C-IP2's 2023 Annual Conference explores IP issues arising from major Supreme Court decisions, new licensing approaches, national security issues, and tech innovation (Metaverse, crypto, NFTs, and generative AI). Impacted doctrines include first sale, SEP and FRAND, TRIPS waiver, functional claiming, so-called patent thickets, and more. Join leading academics, practitioners, industry heads, and judges to work through the most important new developments in IP, tech, and the arts.
---
C-IP2's Professor Seán O'Connor Returns to Faculty
After successfully steering Scalia Law's Center for Intellectual Property x Innovation Policy (C-IP2) through a rebranding and expansion that resulted in a Top 20 ranking for the Law School's IP Program, Professor Seán O'Connor is returning to full time research and teaching. O'Connor will continue on as C-IP2's Faculty Advisor, while Managing Director Joshua Kresh will assume the role of Interim Executive Director.
"I am gratified to have built on the successes of C-IP2's predecessor in providing a unique place in the academy for heterodox IP views for the past 4 years, but I am thrilled to return to my primary passions of teaching and research. Those law review articles won't write themselves," says O'Connor.
Read more about the transition and about
Professor O'Connor's contributions to the Center.
---
Virtual Conference (Ended)
Culture & IP:
Analogs to Intellectual Property
in Different Cultures
Thursday, April 27,
Friday, April 28, 2023
Hosted Online Via Zoom
6 Hours VA CLE Approved
Cultures influence the development of Intellectual Property systems, and Intellectual Property systems influence how cultures develop. This conference focused on that interplay through the lens of analogs to Intellectual Property in various cultures, bringing together scholars from around the globe to discuss how Intellectual Property systems and their analogs co-exist, influence, and inform each other.
2023 WIPO-U.S. Summer School on Intellectual Property
June 5-16, 2023 (Weekdays Only)
Hosted Online Via Zoom
The Center for Intellectual Property x Innovation Policy (C-IP2) at George Mason University Antonin Scalia Law School partnered with the World Intellectual Property Organization (WIPO) to host the sixth iteration of the WIPO-U.S. Summer School on Intellectual Property. This exclusive, two-week summer course was held online only from Arlington, Virginia—just minutes from Washington, D.C., one of the world's key centers of intellectual property (IP) law and policymaking. Scalia Law students and visiting U.S. law students were also eligible to receive 3 hours of academic credit.
---
Article on Section 1498(a) by Judge Susan G. Braden and Joshua Kresh
Section 1498(a) is no Rx for lowering drug prices. In a recent Food and Drug Law Journal article, C-IP2 Jurist in Residence Judge Susan G. Braden and Managing Director Joshua Kresh respond to the suggested use of Section 1498(a) to lower drug prices—namely, while 1498(A) is a waiver of sovereign immunity that allows a patentee to sue the Government to recover damages when the Government uses the patent without a licensee, 1498(a) has never been applied in the proposed situation and is unlikely to cover the widespread use suggested. Furthermore, even if it was extended, damages would be high, and it is unlikely to have any measurable impact on drug pricing. The Washington Legal Foundation provided further details on the article when it was forthcoming.