C-IP2 produces research, education, and service at the intersection of IP and innovation policy to better understand and shape the means of innovation as a positive force for good. We do so by promoting a diverse set of perspectives and voices to present a fuller picture than that of the dominant legal academic literature on the role of IP and other legal mechanisms to transform great ideas into useful or aesthetic artifacts and activities.
---
IN THE SPOTLIGHT
---
Call for Applications:
Thomas Edison Innovation Law and Policy Fellowship
2024-2025 Call for Applications
Proposal submission period ends 5:00 PM EST Wednesday, November 22, 2023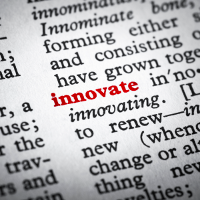 Now entering its tenth iteration (2024-2025), C-IP2's Thomas Edison Innovation Law and Policy Fellowship is a year-long non-resident fellowship program that brings together a group of scholars to develop research papers on innovation law and policy. The Edison Fellowship is one of the centerpieces of C-IP2's mission to promote a better academic discussion about intellectual property rights with substantial scholarship produced from rigorous research that examines the moral and economic value of innovation.
The Edison Fellowship consists of a series of invitation-only conferences over the course of a year in which Edison Fellows study and discuss a structured curriculum, engage in roundtable discussions with expert senior scholars and industry representatives, and share and collaborate on both their research and early drafts. The Fellowship culminates in the production of substantial academic research papers that are published in law journals or other peer-reviewed academic journals.
---
C-IP2 2023 Annual Fall Conference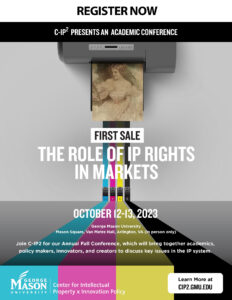 First Sale:
The Role of IP Rights in Markets
Thursday, October 12, &
Friday, October 13, 2023
Hosted in person at Mason Square
(formerly the Arlington Campus)
— Approved for 7 Hours of VA CLE —
C-IP2's 2023 Annual Conference explores IP issues arising from major Supreme Court decisions, new licensing approaches, national security issues, and tech innovation (Metaverse, crypto, NFTs, and generative AI). Impacted doctrines include first sale, SEP and FRAND, TRIPS waiver, functional claiming, so-called patent thickets, and more. Join leading academics, practitioners, industry heads, and judges to work through the most important new developments in IP, tech, and the arts. This year's conference features a special celebration honoring Judge Pauline Newman from the Federal Circuit.
Learn More About the Conference